International Day OF Education
The International Day of Education is an annual international observance day held on January 24 and it is dedicated to education. It is a day earmarked to celebrate the role of education for peace and development.
On Monday, 25th January 2021, the Ghana Society for Education Technology held a webinar to commemorate the event. The event was under the theme: Post Pandemic Learning: Is the Ghanaian educational system robust enough to handle any possible adjustments on the academic landscape?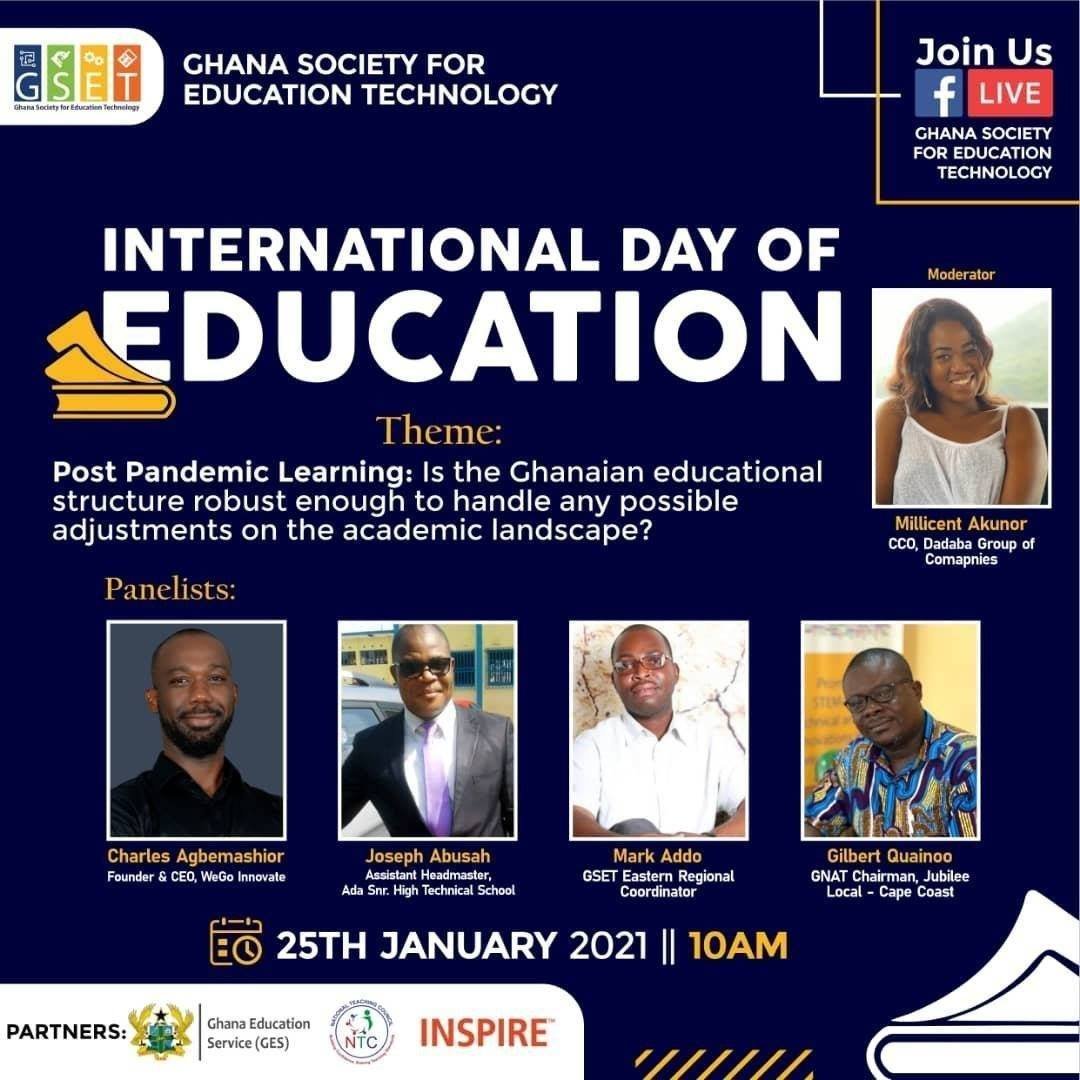 The discussion was facilitated by an elite team of four panelists who are well vested in the field of education in our Ghanaian space; Mr. Charles Agbemashior (Founder & CEO, WeGo Innovate), Mr. Joseph Abusah (Assistant Head-Teacher, Ada Snr. High Technical School, Mr. Mark Addo (GSET Eastern Regional Coordinator), and Mr. Gilbert Quainoo (GNAT Chairman, Jubilee Local – Cape Coast). Miss Millicent Akunor (CCO, Dadabee Group of Companies) was the moderator of the event.
The very educative and interesting webinar was streamed live on Facebook and viewers interacted with and followed the discussions keenly. One resounding highlight noted from the discussion was that "The future of our Ghanaian Educational Structure depends largely on our intentionality and collaborative efforts". It, therefore, behooves us all to take calculated steps in a collaborative manner to make our educational system more effective and robust.
We are grateful to everyone who made this program possible and we send our warmest regards to our panelists and all participants.
Link to the recorded event is provided below